« October 2004 | Main | December 2004 »
November 30, 2004
Ooooh! Yes! They approved me.
Yeah! They approved all of my referrals, and now they are sending my order for the free ipod from FreeiPods.com to a vendor... This is supposed to take 3 to 5 days. I'll let you know what happens next.
Meanwhile, I guess I need to go for the new FreePhotoiPods.com deal! (yup, this contains a referral link, too!) For this one, I need to refer 10 (!) people... That's going to be difficult. Five was do-able. Can anyone possibly get 10? It's that much harder to get people to sign up when they don't think THEY'RE going to be able to do it themselves. Well, at this point, I'll just post it and see what happens.

Posted by Andrew at 07:12 PM | Comments (0)
November 29, 2004
Alarmingly Cool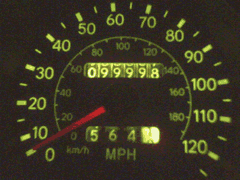 For what it's worth, this is alarmingly cool. At least I think so. This is an animated GIF of my RAV4's odometer rolling over from 99998, then to 99999, then to 100000. I made this while pulled over to the side of Main St. in Fairport using Lori's Camera Phone. I have a bigger (higher resolution) version... But you don't really want it. Feel free to comment on this one. I know you want to.

Posted by Andrew at 07:30 PM | Comments (1)
First Day of Winter Quarter
First day has gone decently. My 8am class was sparse. Only 8 people present and 12 on the books. That's a 66% attendance rate. Not so good. And at least one of them has a conflict, so... not sure how that will resolve. Chad showed up to become my teaching assistant... Not sure if I'll get to keep him though, with the class as small as it is. The lecture itself went well, but my Powerpoint is acting up on my laptop (or maybe it's the laptop, itself), but I can't get the dual-screen presentation feature (that shows me the screens on my own computer with notes, while it shows the regular slide to everyone else) to work properly.
Lunch with Lori at the Pita Pit... Love the Chicken Ceasar Pitas. Mmmmm. Oh, and we bought the last two pitas that we needed to get a free one on that buy 10 get the 11th free card... Cool.
Taught my Human Factors class at 2pm. Had a lot of fun being an amateur comedian for the first 20-30 minutes of class. Felt a little out of sorts because I didn't know that I was going to be teaching the class all that early, and so some of my materials are still old... and Just a few hours before the class, I got to talk to someone who taught it in the Spring and got some great new ideas... So I went into class thinking that I really wanted to change quite a bit of the plan for the quarter. Urgh... I think tomorrow's section will go a little more smoothly.
Now I have some free time before the first CCC leaders meeting of the quarter. It will be interesting because Joel (our student president) is back! This is good. Takes more of the burden off of me, and lets me concentrate on some other things. We're just about to roll out a new Mailing List for the club that doesn't require us to use Yahoo! Groups which was reallyl cramping our style. We need to be able to add bunches of people to our Mailing List all at once right at the beginning of a quarter, and Y! Groups limits you to 10! which is just unworkable for us. We have lots of people that still need to be added to the list. So that's something that I'll now concentrate on for the next couple of days.
That's about it at the moment.
Posted by Andrew at 04:35 PM | Comments (0)
November 28, 2004
Free iPod update
Previously, I posted about getting a Free iPod through FreeiPods.com. I have now made it to about 12 others who have responded to the offer and 5 who have completed their deals. I submitted my account for a final check-over before they allow me to order my iPod, but it should happen soon.
At this point, I'd encourage you to ask around (or ask me) for a friend who is looking for people to sign up under them rather than to sign up under me, since further people signing up under me won't help me any more... That is, unless one of my sign-ups turns out to not be approved or something... Then I'll need to replace them.
I'll let you know here how it goes.
Posted by Andrew at 08:44 PM | Comments (0)
A new quarter begins. A new entry.
Well, hello!
Boy, it's rare that I post anything here. But why make excuses, so, hey... I'm posting something now.
It it now the day before Winter Quarter begins at RIT. I have done all of my preparation for the 8:00am (!) class that I teach on Mondays. I'm a little bummed to have to teach at 8:00am, but there is one saving grace: The class itself only has 12 students in it. Which should be pretty pleasant to teach and grade. Normally this particular class has a Teaching Assistant for it, but the number of students has to hit 20, I think. I will still probably hire a grader to assist with the grading of this section and my other (normal time of day) section of the same class.
What else? I did get my car back, finally, BTW from the dealer, but not before they had to take it back a second time because of a cut coolant hose that the missed the first time through. Meanwhile, since that Ford Focus that they had me using didn't have a working CD player, they gave me a different auto... which I really liked... it was a nice big Kia Sorrento SUV. It was a little bit of a let down to get my old car back.
Lori (my wonderful girlfriend) also had her engine go bad on her old car, so we did some car shopping and ended up picking her out a brand new Subaru Outback Sport.. Blue. 6-disc CD changer. Very nice.
I don't really have too much time to write a long entry, but I thought I'd just check in and at least make sure that there was *something* for the month of November!
I try to post a little more often in the upcoming weeks... But no promises.
Also, unless I have something worth leaving open for comments, I'm going to be disabling comments most of the time to cut down on spam. Nothing really worth commenting on here, but I welcome you to drop me an email. andrew [at] wheeland [dot] com
Posted by Andrew at 08:36 PM | Comments (0)