« April 2003 | Main | June 2003 »
May 30, 2003
It's 8:45am..
I'm pretty sure that I wont be awake at this hour again until some time in July... :) But today, I am going in to campus to be at a departmental meeting/retreat for most of the day.
Later tonight, I may go see a movie or... who knows? Let's call it a mystery for now.
Tomorrow is a CCC planning meeting in the evening, I believe. Exactly where and when, I'm still trying to figure out, but we should be close to figuring it out.
(last night, I played a couple of games of Web of Power (online version) and a couple of games of Mystery of the Abbey). I won Abbey once (lost it on a forced 50/50 guess the 2nd time.. D'oh!).
Posted by Andrew at 08:54 AM | Comments (0)
May 29, 2003
The Games of Life...
Well, I've decided that I'm not going to go into a departmental meeting later today that I was otherwise planning to attend. I will go on Friday (it's a two-day 'retreat' meeting), though. The meeting is a must-attend for full-time faculty, a should-attend for Visiting Faculty, and a may-attend for those who would be adjuncting. I'm definitely in the "may-attend" category... I was actually attending these yearly "retreat" meetings while I was still a student because they had invited some of the very involved among us to attend and to give their impressions of what was going on in the department, etc. This will be the first time in quite some while that I'm not going. I guess it's yet another sign that I'm moving on.
My world sure has been rattled up recently. I have learned things on three different fronts that have been quite un-expected. I can tell you the fronts, but I can't tell you what I've learned. The fronts are: Work, Relationships, and Ministry. None of these things are catastrophic or are going to cause me great hardship, but they do make life a little more interesting.
Games@Six (this past evening) was quite an event! There were 17 people (I think) that stopped by and played at least one game. Here are all of the games that were played (that I can remember): Crokinole, Family Business, Bean Trader, Amun-Re, Mystery of the Abbey, Chinatown, M, Zendo, Battlefleet? Gothic? something like that?, Connect Four (as a tournament), Cosmic Wimpout, Corsairs. Anything I missed?
I was killed quickly in the game of Family Business, allowing me to join the game of 'M' (the one game that Christmas... hi, Christmas!!... played with us). I tied (with Christmas... hi, Christmas!) for 2nd place. After that it was time to try the new game, Mystery of the Abbey (which I clearly have no clue [pun not intended] how to play well). I thought it was an interesting game, but I need some better strategy for getting information without giving it away to everyone else in the process. My next game was Amun-Re, which was a really good game... LOTS of pyramids this time... I won, but not by a whole lot. Then I played Chinatown, which I also won(!)... It was a very good match. And that was pretty much it.
Just to recap my previous days, Tuesday Night I went to a yummy dinner and bible study at the house of another couple in Capax Dei... it was a really nice evening. On Monday Night I was at the Boardgaming "Monday Madness" Night at Millennium where I was joined by 4 other Games@Six regulars and 2 other folks that we didn't know who also turned out for the games for the first time... so the 5 to 10 other folks who had come out in the two previous weeks didn't show up at all... the theory was that it was because perhaps people would have expected the store to be closed on Memorial Day. On the bright side, we did get a nice chance to talk to and get to know the couple that owns the store (Ed & Samantha) a bit more. If only they had another person working at the front desk, they could have joined us for a game or two.
That's probably enough said... Graduation came and went... I thought about taking a bunch of photos, but I didn't... I think I took maybe 2 or 3... I may post them in a little while.
Posted by Andrew at 04:02 AM | Comments (0)
May 27, 2003
Horsehead Nebula
Check out this image: http://www.arizonausa.com/sky/orion/horsehead.htm and compare it to the picture that I posted with my previous entry
Eerie resemblance, huh?
Posted by Andrew at 03:42 AM | Comments (2)
May 25, 2003
A Great Group Game!
Graduate Mafia Brotherhood of Princeton University
Okay... this website is a club at Princeton that plays the group game "Mafia"... I have a copy of this game that is published with a different theme called "Are you a Werewolf?" I had read much about it some time ago, but had never played it... I tried once to get a large game of it going at a Games@Six game night when everyone arrived early, but it didn't fly very well... and no one had wanted to play it since.
Earlier tonight it finally "took" but on a different group of people... most of them from my church! We played one round of it, and the first time it was a little awkward, but people found it interesting enough to want to play again... After the 2nd game we were hooked and wound up playing it the rest of the night... 5 or 6 times, I'd say... So much fun.
I highly recommend it. It takes some willingness to get to talking, though... If everyone sits around and just stares and randomly votes people out, it doesn't work. People need to get into it and try to "root out the werewolves" -- or mafia... whatever theme you're using... After we got it and everyone understood how it worked... it was the hit of the night.
Posted by Andrew at 02:10 AM | Comments (0)
May 24, 2003
Random Web Page Design
StrangeBanana: Computer-generated webpage design
Now this is really pretty interesting. It occasionally makes a really nice looking page. Before I get too far into my wheeland.com re-design, I think I'll spend a little time here hitting reload.
(link found on Daypop's Top 40 Links)
Posted by Andrew at 01:34 AM | Comments (0)
Forgot to Mention... Fall Courses... Mystery Image.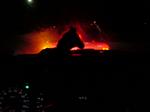 Forgot to mention that at today's (well, Friday morning's, actually) meeting I did sign up for two more sections of Introduction to Multimedia: the Internet & the Web to teach in the Fall. Pretty horrible though, they're Monday/Wednesday 8am for one section and Tuesday/Thursday 8am for the other section. This doesn't mean I'm committed to these sections, though... It just means that I'll have them if I don't start to do/teach/pursue something else in the Fall. On the positive side, that might be a good way to earn some money in the Fall even if I'm doing something else part/full time.
Also, the image here is a mystery image... I took it myself... I think it's pretty interesting... Tell me what it makes you feel.

Posted by Andrew at 12:52 AM | Comments (1)
Grading Done!
Sweet! All done with grading. Now it's time to play "Jump" (The Movement) and celebrate! Yee-haa! ARE YOU READY?! Jump everybody, jump everybody jump... jump jump jump jump... Wheww... That's some serious jumpin'!
There... that was fun. I still have to come in on Monday and finish some details that aren't grading related (per se)... But things are pretty much done with the "high pressure deadline" kind of stuff...
I get to kick back and enjoy this weekend. Sweet. Dude! Sweet.
Posted by Andrew at 12:05 AM | Comments (0)
May 23, 2003
Grading progress...
Well, I did get the grading finished for my 2 sections of Human Factors last night... And tonight, I think I may be able to submit grades for my other class, Introduction to Multimedia: the Internet and the Web.
I just got back from the Convocation (part of RIT's yearly Commencement events)... I was in my academic regalia... I'll be in it again tomorrow... This time, I might take my digital camera with me again and document another "day in the life" of an RIT Faculty (this may be my last commencement if I'm not going to be teaching full time after this)...
At the Convocation, Senator Chuck Schumer (NY) spoke... It was a good talk. Among the usual "go for it" message he also talked about how he felt that those who go into teaching should be regarded like "doctors" and "lawyers"... And if they do it for 5 years should have their Student Loans cancelled. (Go Chuck, Go!) It was all nice and rah rah, but how likely is this to happen? eh. We'll see.
Bruce Almighty opened tonight. I'm hoping to see it. Some people may question my desire to see this movie... being that I'm all a "God Person" and stuff. But, honestly, I think God can rise above a comedy about what it's like to have the powers of God and teach lessons, and even bring people closer to Him through it. I like Jim Carrey's style (in his comedies, at least). I'll laugh, I'll form an opinion, I may even share it here after I see the show. I'm sure, though, that it will probably have some kind of sentiment that you should "be a good person so that you can get to heaven."... I can't stand movies that imply that... Like you can work your way into heaven... That makes me far more offended that any little joke does.
Well, anyways... Back to grading...
Posted by Andrew at 11:43 PM | Comments (0)
May 22, 2003
Grading Day... Looking into the Future...
Sitting in my office now, working on more grading. I want to get done with at least one of my classes today if possible... Ideally I'd like to get them all done, but I think I'll be doing something later tonight.
Upcoming plans:
Friday 23, day-long meeting for department in the morning/afternoon... Convocation in the evening.
Saturday 24, commencement breakfast and ceremony, capax dei picnic/gathering in the evening.
Sunday 25, afternoon picnic, Capax Dei in the evening, maybe movie (Bruce Almighty) in the evening.
Monday 26, finish any remaining grading (ugh), Monday Madness boardgaming at Millennium
Tuesday 27, finish any remaining grading (absolute last day for it, if needed), Capax Dei Book of Acts study.
Wednesday 28, Games@Six
Thursday 29, Departmental Meeting (Day One), Amazing Race starts (TiVo!)
Friday 30, Departmental Meeting (Day Two)... Finding Nemo? The Italian Job?
Saturday 31, CCC planning meeting...
On to the summer:
June: Family Reunion/Birthday Day, Capax Dei Camping Trip, Car Hunting, Office Cleaning/Packing, Job Hunting?
July: Weird Al concert, Time at the Late around the Fourth of July, Kids on Campus, CCC staff exploration.
August: Consulting work?, Full time work?, RIT?, CCC staff/fall qtr. planning? Class preparation? ???
September-November: RIT CCC Freshman Outreach. Teaching 2 IT courses? Other RIT job? Consulting? CCC Staff support raising?
December+ : Full Time job? More Consulting? More teaching? CCC staff training? LotR: The Return of the King!
2004: ????????
Posted by Andrew at 02:17 PM | Comments (0)
May 21, 2003
Happy Birthday, Erin!
Today is Erin's Birthday, so... Happy Birthday, Erin!... I was trying to find a clever anagram of your name for your birthday, but all I could come up with was "Erin Marie Skirment" = "Marries Intern Mike"... But then I was all like... Who is this Mike guy, anyway?! :)
Posted by Andrew at 12:04 AM | Comments (1)
May 20, 2003
Does this mean I'm "published?"
So, I was so taken with Amun-Re that I had to write a review of it, and now it's part of the Funagain website. You can read it at the site if you'd like. I should probably write more reviews like this one.
Boardgame night is Wednesday this week (and every Wednesday for the rest of the summer)... If you're interested, by all means check out the Games@Six Yahoo! Group and come on out. I'll be playing Amun-Re at least once!
Posted by Andrew at 10:28 PM | Comments (0)
The Man is a Genius (and not just in France).
Got the new Weird Al album. Great stuff... ESPECIALLY the parody of Avril Lavigne's "Complicated"... You've gotta hear it... And there's a Backstreet Boys parody in there for Erin about eBay. There are 5 song parodies, the "Angry White Boy" polka (of which I only knew 6 songs!), and several style parodies... There's a great long song at the end called "Genius in France" which is pretty funny, too. The 2nd song "Hardware Store" has this long list of items in the store which sneaks a couple of really funny items in the middle of the list... The first few songs leave you breathless, gasping for air... wondering how anyone could keep up with the pace of the lyrics!
I'll post more about this album after I have a chance to digest it a little bit more... But it's quite wonderful! Go Weird Al!
Posted by Andrew at 12:20 PM | Comments (4)
Giving my Final
I'm currently 30 minutes into giving my Human Factors final exam... 43 students all diligently scribbling down their answers to questions totaling 71 points.
Almost immediately after it's over, I'm going to go down the road to Media Play and buy the new Weird Al CD... I never got to it last night.
I hope to have these exams and the rest of their papers graded so that I can have their grades online by Thursday morning. I think I'll be able to take care of it. Then there's just the 320 final projects and practical exam 'retakes' to contend with.
Posted by Andrew at 08:29 AM | Comments (0)
May 19, 2003
My Afternoon in pictures...
Here's my afternoon in pictures... all 640 x 480 images... if you view the large images, I've added comments to each one... sorry if that takes people on slow collections a long time to look through... :(
I also didn't edit these images or remove any 'junk' ones... These are as I took them, one after the next... (actually I did edit a little bit of my credit card info off of one of the pictures seen in a receipt in the photo)...
I think the most interesting picture is probably that of my office. The one before it is my office door, too. Pretty crazy... going to do major clean up in June on my office. Seeing as how I may not actually be using it much more after June, except perhaps as an adjunct professor... in which case, I'll probably be sharing it with Sean Boyle.
Enjoy...
I've decided not to go to the game night at Millennium this week, but I will probably start going next week. I'm still considering the ride to House of Guitars tonight, though, to get the new Weird Al CD.
Posted by Andrew at 07:20 PM | Comments (3)
Well, that was kinda week... but I'm really up now.
So, I stayed in bed an hour longer... then got up and took a shower... and then napped for longer still... But now I'm up. I'll have to debate whether or not I want to just stay up all night and come home and sleep after I give the final in the mornng (at 8am tomorrow) or whether I just want to try to force myself to go to sleep early tonight.
Part of the problem is that tonight I'm thinking seriously about going to the House of Guitars after it re-opens at midnight to buy the new Weird Al album (Poodle Hat).
Also, tonight, I'm thinking about going to the Millennium "Monday Madness Board Game Social Night" which is a new thing that they started last Monday...
Anyways, I'm heading to campus now, and I'm going to take my camera along and take lots ot 640x480 resolution pictures along the way today... I'll try to put them into an album and I'll show them to you later.
Off I go.
Posted by Andrew at 01:44 PM | Comments (0)
Arise!
Good Morning... Wow... this will be a measure of will power to actually stay awake and start getting up at this point.... I'll let you know how it goes... :)
Posted by Andrew at 10:00 AM | Comments (0)
Weekend Recap, and wake-up commitment.
Hello! I'm about to go to bed, but I wanted to post and update a little bit. Gotta say thanks to my very good friends Keb & Steve who took me out to dinner on my birthday... It was a very nice dinner at this fancy little Wegman's (!) restaurant called "Tastings"... (I dow! Can you ba-weave it?) Afterward, we went back to my apartment and played Amun-Re with Jeff.
Saturday, I spent most of the day at home wasted much of the afternoon (my version of morning) playing a video game, but got productive after that and did a lot of laundry and cleaning up... That was a good thing.
Today, Sunday (well, earlier, it was still Sunday)... I did a little more clean-up and laundry, interspersed with going to Capax Dei. It's the last week that the students from RIT that have been coming with me each week (Scott Cranfill, Gary Seiling, and Julie Zobel) will be coming for about 3 months... all going home for the summer.
Also wrote some important e-mails... My inboxometer right now is rather sad: ibo[329]
Also did a little bit of "warm-up" on my Wheeland.com site by messing around with the layout and graphics a bit. This is where my future "main site" will be... I'm going to be dropping the RIT sites pretty soon... wheeland.com is much more permanent for me...
I'd better get to bed. I'm making a commitment to post when I wake up... which will be no later than 10am... Talk to you then. I need to get my schedule back around to a reasonable wake-up time so that I can give my 8am finals on Tuesday and Wednesday mornings. And after that, I can let it slip back around to a more comfortable time-range.
Will be posting again soon...
Posted by Andrew at 04:44 AM | Comments (0)
May 16, 2003
Everybody! Everybody!
Hi! Check out my cool new threads! It's my new Homestar Runner t-shirt that arrived just in time for my birthday.
Later tonight I'm going out with friends for dinner and probably some games afterwards.

Posted by Andrew at 06:18 PM | Comments (4)
May 15, 2003
CCC, The Matrix, and The Wheeland Birthday Streak!
Tonight, I am going to see the Matrix: Reloaded after the CCC Games & Pizza night. I'm a little over-booked. There's also an IT student coffee night going on at 7pm, but it conflicts with the CCC meeting... and for me, CCC is a higher priority. Sorry Sean and others in IT.
This is the "birthday zone" in my family... With a bunch of birthdays in the zone from May 15th to May 17th:
Today is my Grandmother's; My sister, Teresa's (picture link below); and My nephew, Elijah's (in this picture with his dad, Chris) birthday.
Tomorrow is my birthday (32)... I'm going to start it out with sleeping late and then coming in to RIT in the afternoon to take care of some details... After that, I'm really not sure what's going on...
And then on Saturday is my Father's birthday! (this picture shows my sister, Teresa, on the left, my mother in the middle, and my dad on the right playing Crokinole at last year's Wheeland Reunion.
Next month we'll all be getting together for the Wheeland Reunion and something we call "Birthday Day" where we celebrate everyone's birthday at the same time... Even the ones 'outside' of the 3-day streak... My other sister, Pam (mother of Elijah, wife of Chris) has her birthday in June, Mom has her birthday in December! But it's a fun day... I like it because it balances nicely with Christmas at the other end of the year. :) Pam, myself, and Teresa are all in this picture
Alright... gotta take care of some more things before Pizza & Games tonight!
Posted by Andrew at 03:23 PM | Comments (0)
May 13, 2003
I won!
I was just at this talk:

Guest Speaker: Adam Engst

On May 13, MacRIT will be hosting guest speaker Adam Engst, publisher of TidBITS and author of many books, including iPhoto 1.1 for Mac OS X: Visual QuickStart Guide. Topics to be covered include iPhoto and wireless networking. Several of Adam's books will be raffled off to attendees.
And I was one of the lucky attendees and am now the proud owner of an autographed copy of "The Wireless Networking Starter Kit" Thanks MacRIT (what a great name for a club!, BTW) and Adam Engst!!
Posted by Andrew at 09:43 PM | Comments (1)
May 10, 2003
My 101st Entry!
Welcome to my glorious 101st entry. You see, 101 is so much better than 100 because it represents the VERY FIRST ENTRY of my 2nd hundred posts! Quite a cause for celebration! Woo-hoo! Okay... not really.
It is saying something that I reached this point, but looking back over my first 100 posts, it doesn't seem like I've said all that much and certainly haven't posted all of the things that I thought I might post when I started. The other disturbing trend is that the rate of posting is slowing down. Now, this may be mostly because the pace of the quarter is picking up... I think I'll be back to more frequent posting by about the end of this month.
But for those who reallly do want to know more about my Life... Here's a little run-down of what's going on in various areas:
1. My job: As you know from my April 10th Entry, I will not have my job in the IT department in the Fall. So, I am looking at my options. At the moment, I'm waiting to hear a few things from a few different fronts. I'm fine for June, I have some work for July, and August is where it starts to get weird... But by the end of July, I should have had a chance to check out a lot of additional options. Part of me would like to work at RIT, but if that doesn't work out, I won't mind too much. As long as I'm still able to be connected with RIT CCC and the IT department (for adjunct teaching) for about 1 more year.
2. Campus Crusade for Christ: Another major area of my life. I want, very much, to be able to continue to work with the RIT Campus Crusade group for one more year... or at the very least through the beginning of next Fall Quarter as they start to roll into the new year. There are two things that might make me not be involved with CCC beyond the beginning of Fall. 1. If I move out of the area for a job opportunity (which is unlikely, to me)... or 2. If I join CCC staff and need to be sent to another region for training. Part of my initial time with CCC, however, would be spent locating support to be able to go on staff.
In general, things with CCC are going very well at RIT and here in Rochester... This coming fall, for the first time, we'll be able to have our own local Fall Retreat instead of sneaking off and piggybacking on the Fall Retreat for the folks in Buffalo. Which, no doubt, is a lot of fun, but we'll be able to build up our own area's strength with our own Fall Retreat. We have our room on Thursdays for next year, but we haven't yet scheduled out our first couple of weeks worth of activities... we REALLY need to do that very soon. We'll probably be having a couple of meetings over the summer on it. Recent outreaches have gone well. Spring quarter has been very interesting with a Purim Play (complete with controversial Messianic Jews), Jesus Film (where 7 people indicated that they prayed to receive Christ), and an outdoor meeting with a Deaf Speaker in the middle of a dorm quad.
3. My apartment: Things are going well.. the lease is up in August, so if something drastic happens with my Job situation, I wouldn't be stuck beyond the end of the summer, but both of my housemates want to stay for at least another year... so, it's another indicator that I'll likely be staying in Rochester for at least one more year.
4. Kids on Campus: It does look like I'll still be doing Kids on Campus in July this year... There's still the possibility of a government grant coming through to work on the program and potentially create a new summer program similar to my popular MystMaker workshop for a greater number of kids... some portion of which are likely to be disadvantaged. sorry... that was a long sentence.
5. Women: [edited...] A complete mystery. We shall see what the future holds.
6. Games: I am still fully into European/German/Designer Board Games. I recently picked up a copy of Amun-Re. I've played it once. Very cool game. I'm looking forward to introducing to my other boardgaming friends. The boardgame nights have been pretty well-attended this quarter and are likely to get (oddly enough) a boost for the summer. I believe they will be on Wednesday Nights. Those interested should get themselves signed up at: the Games@Six Yahoo Group!
7. End of the Quarter havoc: The end of Spring Quarter is always pretty crazy with everyone potentially leaving, my birthday (on the 16th) in the middle of it, Graduation, plenty of grading, the need to wrap up a lot of other rit business... like clubs, etc., Final good-bye parties (Like Skirmfest this weekend -- to which I'll be bringing a projector and some games.).
8. My illness. The sinus problem that I started this quarter with has recently come back... and has affected my voice... over the last 2 or 3 days I haven't been able to speak well (lots of SARS jokes and people stepping back thinking they're funny)... It's cleared up ever-so-slightly today, so I should be okay at Skirmfest, although I probably won't stay all that long... I'll just leave a few games and the Crokinole board there for people to play with and pick it up later. But what is nice is that for the rest of the quarter, I don't really need to do much speaking... I need to be able to say a few things on Monday at around 10am to my class... but most of that class time will be spent doing group work.
9. Movies. I saw X2. It was good. I'm ready for X3. This weekend... Daddy Day Care looks amusing, but I may not wind up seeing it... What I should have done was go see "A Mighty Wind" but I missed my chance by about 30 minutes... Next weekend is all about the new Matrix movie.
10. I dont' have a number 10, but it seems like such a nice round number that I SHOULD have a 10. Oh! Okay... My cat, Folly, is doing well... but it's time that I got her to a vet. Nothing going terribly wrong... It's just been a while.
I guess that's all for now. I am going to get back into the swing of things, soon... particularly here on my blog... so hang in there! I have not given up!
Posted by Andrew at 12:32 PM | Comments (0)
May 09, 2003
FYI
Ross wants me to update my blog. Congratulate him on his new iPod.

This part of the entry added at 11:35pm:
Ross points out that this is my 100th post so I should say something better. Okay...
This is my 100th post. Congratulate me. :) My 101st post will be even better!
Posted by Andrew at 04:11 PM | Comments (1)