« July 2003 | Main | September 2003 »
August 24, 2003
Weekend
The kick-off meeting on Friday night went really quite well. Got to see leaders, Joel, Tim G, Tim C, and Erin from RIT as well as about 10 others from other area colleges. I think it will be a great year for Rochester CCC.
I also started out on a new personal self-improvement journey, that maybe I'll talk about more sometime (if/when it works)... Check with me in a year.
On Saturday, I did some on-line catch-up and waited for my friends to get done with their wedding until later that night. We tried to go to Olives in Pittsford... but they were closed (causing a chain-reaction of miffed-ness that would make your head spin), so we went to Aladdin's instead... Just myself and 3 lovely women (I suspect that at least one of them will be reading this! :) ). At any rate... We went back my way and watched an episode of Monster House on the DVR. Keb still wonders when they're actually going to make that hookah fountain look good.
Today, I got up in time to join a very similar group at the iHop (which I write that way because I was wearing an iMac T-Shirt at the iHop) for brunch. Then got home and took a little bike ride: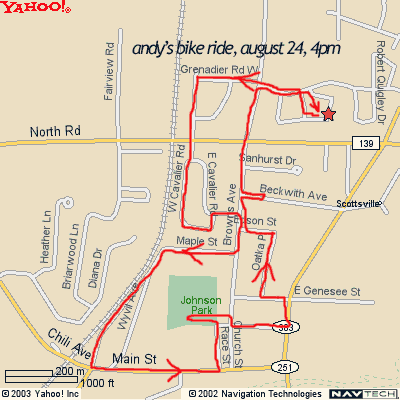 It was fun... It's not something I normally do. Even though I've had my bike (here's a newer model with more red on the tires than mine has) for quite a number of years now.
Tonight, I'll be going to the Capax Dei Core Night and then joining my weekend-long group of friends for dinner downtown at Empire Brewing Company.
Next week will be pretty busy too... The summer has nearly come to an end. It's closing in fast.
Posted by Andrew at 05:16 PM | Comments (0)
August 21, 2003
Still here.
I've lost the compulsion to blog, momentarily. Today, I think I'm going to catch a matinee of 2 Fast 2 Furious and then this evening, I have my Capax Dei study.
Played games on Monday and Wednesday night.
Got more memory for my computer this morning... well, it was delivered this morning anyway... which is why I'm up so early. Testing things out... it works... :)
I have a lot to do before tomorrow which is the kick-off student leader gathering for Rochester CCC.
Sunday evening, I visited Open Door Baptist Church which will (to my understanding) be helping out with RIT CCC this year.
Sorry about the meandering entry. I haven't been in the right frame of mind recently. There's a lot of stuff looming on the horizon for me. Loom loom loom.
Posted by Andrew at 10:57 AM | Comments (0)
August 16, 2003
Continued Clean-up
The apartment is getting better and better... At least, downstairs... My bedroom still needs a lot of work. I finally fired up my previous home computer, put it on the network and copied a bunch of the files from it onto my OS X machine. Just need to sort it out a bit and write the files to a CD-R.
Jeff and I played a few video games as well. Online Battleship Clone at Yahoo! Games (I won)... And some old Playstation Games... He's much better than I am at Twisted Metal 3...
Also, CBS is re-showing the Amazing Race tonight (thanks Pauley for the heads-up), so I'll still be able to be caught up on my shows.
We almost went to go see Freaky Friday this afternoon, but wound up missing it.
I clearly have nothing interesting to write about today.
Posted by Andrew at 08:49 PM | Comments (1)
August 15, 2003
After the Blackout.
I got power back here in Scottsville, NY shockingly fast in comparison to the rest of the area... We lose power a lot here in Scottsville... We're just on the edge of the Niagara Mohawk area, so I think we may have more outages than others.
At any rate, Tuesday I was doing some cleaning up, etc until Jeff decided he wanted to go to Boldo's Armory to buy the Lord of the Rings game... Boldo's is a nice place... It's smaller than Millennium, but it has a great selection of EuroGames and a decent selection of other books/games/cards. I've never actually hung out there to play some games, but perhaps I shall at some point... Before we went though, we made an arrangement to meek Keb & Sherry for dinner. So Jeff and I went to get the game, stopped by the mall to pick up a video game that just came in for him, and then met Keb, Sherry (and a bit later, Steve) at Cracker Barrel. Afterward, they came back to our house while Jeff, Steve and I played (I think) a game of New England.
That night I stayed up REALLY late afterward and got a lot of cleaning done... It was the most productive I've been in a while. Mopped some floors, did some sorting, moved several boxes of stuff that was still all packed up from the previous move and sorted quite a bit of it out... I went to bed after the sun came up.
The rest of Wednesday was a little odd. I had an afternoon meeting with some of the other Rochester CCC leadership... Doing some planning for an upcoming meeting about a week from now. Got a tour of the new Campus Center of MCC... Wow, it's actually really cool. That evening, I had a rescheduled Bible Study (It's my continuing bible/book study on "Celebration of Discipline" which has been going really well)... But it's also my normal night for board games. Everyone at the study was surprised that I showed up anyway. I started out, though at Games (at Six) when it started... And, for the 2nd week in a row, someone else was in our reserved room... But everyone went to a different room for a while as I waited to meet people who were coming to the room but didn't know where to go. Since Games goes pretty late, I was able to leave around 6:30 and come back around 9:30 and people were still gaming. Unfortunately, I know I missed hanging out with some new visitors... I had hoped they'd still be there when I got back, but I guess they had to get going.
Afterwards, 5 of us went to Denny's for late dinner. Mmmmm Moons over My Hammy.
Today (Thursday Morning, actually), I woke up overheated because our Air Conditioner Konked out overnight. Jeff called up the Clearview Farms Apartment management to have someone come out and look at it... And it turns out that it's going to need more work than a single day's worth... Hopefully tomorrow... Right at the moment when he was about to tell us the bad news about the AC, that's when the electricity goes out... our first inclination was that somehow he had either turned it off or made the breakers flip. It wasn't until Jeff's mother called him on his cell phone that we discovered that it was more than just the Scottsville area that had lost power... Good thing we didn't get in the car and go to Taco Bell like Jeff wanted to... :)
So we sat and listened to Bob Lonsberry on WHAM 1180 for a few hours until the lights came back on. (We're quite disappointed that we missed the Amazing Race tonight)... After the lights came back on, I finally got the rest of the stuff that was under the stairs moved elsewhere in anticipation of possibly moving my computer down there... This may still happen, but when I moved a small desk over to the location it looked very wrong... But it's mostly because the back of the desk looked terrible. One of my other desks may be better there. There also another location downstairs that not under the stairs that may work well for a computer desk...
Anyways, so it's now very late again, but still dark out... I'm about to go to bed. Have a good night.
Posted by Andrew at 05:16 AM | Comments (0)
August 12, 2003
Yesterday and Today
Yesterday: Did a little bit of job-hunting footwork for a potential web-development position at RIT. Bought a few articles of clothing at Wal-Mart. Picked up a book & a Sonicflood CD from the Alpha and Omega bookstore. Went to Millennium Games Boardgames Night (Played New England for the first time & taught Reiner Knizia's Samurai to two others). Stayed up really late playing with Apache on Mac OS X. Using these pages to get a little kickstart. There's a link to my server (Shazbot) on www.wheeland.com.
Today: Other than writing this entry and reading e-mail, I haven't done much. I want to avoid the computer for most of today and try to get other things done. I'll let you know how it goes.
Posted by Andrew at 02:04 PM | Comments (0)
August 10, 2003
Coming to grips.
Feeling a little less devastated now... Sent out some e-mails asking for all of the wonderful people in my life to try to send me a new message if they were expecting to hear from me. I'm still so annoyed that my mail program let me erase my inbox so easily... you aren't SUPPOSED to be able to delete an inbox (itself)... just the stuff in it.
Sigh.
Posted by Andrew at 04:52 PM | Comments (1)
I'm definitely crying now.
In the process of trying to resurrect my lost messages, I think I just lost all of my "Sent" messages from that same account. Now I can't even do the follow-ups I was hoping to be able to do. I need to re-center.
There is too much instability in my life, and it goes far beyond this e-mail thing. I really feel broken down. I need some change. I may need to stop blogging. I really need to think about some things. I'll try to let you know what happens.
Posted by Andrew at 03:39 PM | Comments (0)
Aaarrrrgh!!!
I lost my inbox!!! I'm pretty sure it's gone. I'm going to keep looking for it, but it's really a sinking feeling to loose about a 100 messages, many of which I probably needed to respond to... And there's no good way to alert people that it happened. I have very little recollection of what was there... I have a couple of guesses, but it just kills me. I hate moving from one email situation/address to another... I kept my old RIT email address for the longest time on this one system and it was always there, and I never lost anything. Now, poof... 100 message gone... With a completely unknown amount of damage. I even had a couple of job listings that were forwarded to me. Gone. I think I'm going to go cry.
Posted by Andrew at 03:15 PM | Comments (0)
Sunday arrives
Yesterday was fun, but mostly a loss in terms of getting my life together. Started with lunch at Eljay's Diner (near Tinseltown) before seeing the Pirates of the Carribean (which I liked, but it wasn't the best movie ever). After that the 5 of us came back to my apartment and we played a game of Taj Mahal. Which lead into dinner, so we went to Macaroni Grill, and played a lot of games on the tabletop with crayon. Hangman and the like. Then finally we played a game of Bluff and that was pretty much the end of the day and the end of the evening.
After everything, I moved my cat's eating and litterbox location yet again in an effort to keep the smell situation under better control. It also gave me the chance to a little bit of cleaning up in that one area of the apartment.
I did get a scare from my iMac in the morning, though... I had a hard time booting it up (I had it all disconnected and powered down from Friday)... kept getting a 'question mark folder' instead of the OS starting up... After a few restarts it worked fine, but it's pretty unsettling... It's done it before but not so many times in a row...
Today, I'm staying home to work and clean up before going to the Capax Dei worship service tonight.
I'm hoping for a much more productive week this week. Feel free to follow along and see how I do...
Posted by Andrew at 01:00 PM | Comments (0)
August 08, 2003
That was amusing...
Here's a little rundown of what has happend in the last two days... Yesterday, I turned off all of my alarms so that I could get up whenever I was awake...
That evening, I went to a Capax Dei study on the book I mentioned previously (the Celebration of Discipline)... It was good... I'm planning to try out some of the ideas about Meditation this week. I'll post about how it goes.
Afterward, I spent most of the evening preparing for today's Eastview Mall event. It went pretty well... I stayed for about 3 1/2 hrs. Quite a few parents and kids stopped by and some educators. During about 2 hours of the time, I took a time-lapse video of the people that stopped by... It's about 22MB, so I won't be able to post it unless I find a way to compress it, but it's fairly amusing.
Now I'm home and it looks like I'm going to go out to Aladdin's for dinner and maybe games or a movie afterward.
Posted by Andrew at 05:58 PM | Comments (0)
August 07, 2003
Whoops... Well, it's almost still Wednesday...
Well, I guess it's not all that important that the postings come within the exact 24-hr time-frame...
But today went well, but it was pretty much busy the whole time. Meeting in the morning went well... It was nice to see my two main ministry areas connecting a bit more.
After that, enjoyed a lunch with Christmas and got caught up a bit. I would like to note that Palmero's Sub Station, while they make pretty good subs, seems to have an identity crisis in their Pittsford store. The interior of the store looks like it should be an upscale coffee house, but it's lacking all of the nice touches that such a place would have... But since it's really a sub shop, it misses on both accounts.
I think it's also a symptom of trying to be a "Pittsford-y" kind of store. Things need to have a upscale look in Pittsford, NY... If I remember correctly, they even got upset when McDonald's painted their store with their new color scheme of Red, Yellow, and White... The repainted the Pittsford store to be more "subdued"... Snooty Pittsfordians... :) Wish I could be one. (hee)
After that, went home for a short bit before going to Games@Six for the evening... Some of the games played (links to Boardgame Geek): Pick Picknic, Electronic Taboo, Pyramizzle (Steve's Alpha Game), Glenn's Alpha Space Exploration/Colonization Game, Ra, Name Burst, Vampire... I think that's most of them.
We stayed pretty late. Hence why I'm writing this at 2:30am (ish)
Good Night.
Posted by Andrew at 02:38 AM | Comments (0)
August 05, 2003
First Monday of August
Yesterday started with a meeting with Susan Kurtz regarding this upcoming Friday where I'll be going to Eastview Mall to represent the Kids on Campus program for a couple of hours. I'm in the process now of contacting the other people from RIT who will be going.
I'm a little uncertain about who will be actually attending this event, but I think I'm pretty well prepared to talk to anyone about it.
Following that, I came home and did a variety of things including have lunch, do some laundry, a little cleaning up, but spent most of my time trying to move the messages from my old RIT account to the mail program on my computer. It's a much more difficult process than it should be. I'm still not done with it either, but I hope that I'm close...
One of the things that happened when I lost my accounts at RIT and they had to restore them is that they cut my account size way back from where it was supposed to be. I haven't complained about it yet, mainly because I think I'm going to be moving everything off of that location here to wheeland.com as soon as I can.
I wasn't really in a gaming mood when I went that evening to the Millennium Games night... The turnout was pretty low, but Keb, Steve, Jeff, and I made along with Justin & Lee (two of the new people that we met through the Millennium nights). We started with a quick game of Vampire by Reiner Knizia (Justin had just bought it)... It's a very simple card game which I found enjoyable... I wouldn't mind having my own copy of it at some point, though it truly has nothing to do with vampires. Just a nice artistic theme.
Got a sub from Amiel's while Steve explained the rules of Puerto Rico to the two Millennium guys who hadn't played it before... Keb rescued me from actually having to play the game (which I don't hate, but I just don't particularly enjoy playing all that often anymore) while I explored the store some more...
I spent a little time leafing through the new Dungeons & Dragons version 3.5 core manuals. Sigh. When I was in high-school, I had so much free time... I could play D&D quite a bit. These days, I just can't find the time... So much other stuff I have to (or should be) doing. But it was enjoyable to look through the new rules. I haven't played since 2nd edition. I used to DM (Dungeon Master) the games with some of my friends. Never terribly hardcore, just goofy fun... I remember a few of the scenarios and special items (like the magical ring of mashed potatoes).
After wandering around for a bit, We split into two groups with one group playing Settlers of Catan and the other group played "Before I Kill You, Mr. Bond..." an amusing little card game and then we playtested 'Pyramizzle' again with 3 players which didn't go as well as the 4 player game seemed too.
We went to Friendly's afterward and tried out a new game that Jeff just bought called Pick Picknic by designer Stefan Dorra (who, it took me a little bit of time to remember, also designed Medina which we've been playing again a bit recently).
Anyway... Lots of rain came down last night, too... Sunday too. Very damp around here...
Today, I've pretty much decided that I don't want to go out at all... I want to stay in, do a lot of cleaning and re-organizing. Tomorrow, I have a morning meeting with Mark Randall & Jason Condon regarding the two ministries that I'm a part of... Capax Dei (the church, now church-plant, that I'm involved with) and Rochester Campus Crusade for Christ (the college ministry that I'm very connected with). Following that, is Games@Six in the evening... I'm not sure whether or not I'll go out for lunch or dinner at all... I might just go home again and try to get more things done around the apartment. But, hey... it's tomorrow and plans can always change.
Posted by Andrew at 01:09 PM | Comments (0)
August 04, 2003
Top hits on Google...
The following words give me (in some form) the Number One hit on Google. Can anyone else find more?
"Wheeland" -- Goes to Wheeland.com
"Irregularly" -- Goes to this Blog page.
"dccircuit" -- Goes to my Yahoo profile.
"wentzler" -- Goes to my sister's main website. (which I helped her to create)
"designworks" -- Same thing.
"teresa" -- 2nd link, actually, but she beats out 'Mother Teresa'
Posted by Andrew at 12:46 AM | Comments (0)
Sunday Report
Just a report on what I did today (yesterday)...
Got up for 10am church service at CrossBridge in their new, fairly strange, location in the Techniplex I in East Rochester. Afterwards, went home with some of the other Capax Dei regulars for chat, Pizza Hut, & Games (Bluff & Electronic Taboo).
Also went to go buy a copy of "Celebration of Discipline" by Richard J. Foster which I'll be reading for a Capax Dei study over the coming month or so. Got home and started reading, but felt too tired and took a nap that ended when I felt like being more productive.
So I got on-line to try to clean out some old e-mail, and wouldn't you know it, a group of friends invaded my apartment and we played more games (a new developing [alpha stage] game which I'll call 'Pyramizzle' for now, and Chinatown (home brew)).
One other thing happened today... I walked into a Verizon store and stared at the phone that I want (the 7135) again, but couldn't fathom the price and the agreement when I really don't know what I'll be doing in the upcoming year or two... So I'll continue to wait. Meanwhile, I'm thinking about getting just a regular phone instead... Sigh. I'm torn because I really want to upgrade my Palm (which I currently carry with me most of the time)... and I don't want to carry multiple devices... The phone (which is also a Palm PDA) is smaller, but thicker...
On the other hand... do I really need a Palm? What if I got an iBook or some other Mac laptop instead... Right now, I'm laptop-less... Well, sorta... I still have the one that I had as a Visiting Professor that I'll be returning to my department guys within the week.
In the morning, I'll be at a Kids on Campus-related meeting. I believe that I'll be representing Kids on Campus at an upcoming "Back to School" event at Eastview Mall... This will just be a 'planning' meeting for that.
Monday Night, I'll be going to the Monday Madness Boardgaming at Millennium Games & Hobbies.

Posted by Andrew at 12:23 AM | Comments (0)
August 03, 2003
No priorities yet...
Oops... I was going to post my priorities by today, and so far I haven't gotten a chance too. Today wound up being busy for me all day... I did wind up going to lunch and a movie (American Wedding - I give it so-so marks... A little too much raunch, but it had some heart behind it all... I can't personally recommend it, though). Lunch was at a place called "Tomasso's" which wasn't where Keb was intending to go, but based on the description of the location it was exactly where we were talking about (turn in to Tinseltown and it's the only place on the left). It was actually a pretty cool little place with Trivial Pursuit questions on the tables and a pretty wide variety of Italian foods. We had a Lasagna Pizza which had a little too much Ricotta Cheese for my tastes, but I'd happily go back there again in an effort to catch a movie on time.
Afterwards, I went to pick up something to take to the picnic/party and went to the party... Lots of good food and time to chat followed by a few games... not much though... A lot of "Bluff" while some others played a game of Bocce.
Afterwards, I can home to find my friends hanging out at my place finishing up a game of Bean Trader, but I pretty much feel asleep on a nearby chair after emptying the dishwasher and refilling my cat's super-cool water fountain/dish.
Now, I'm going to sleep and planning to get up for church in the morning where we'll be visiting the original church that Capax Dei is/was an extension [it's now a church plant] of (CrossBridge). Afterwards, I think I might make it to the Park Ave Arts Fest for a bit. I'll let you know tomorrow what actually happened.
Posted by Andrew at 01:02 AM | Comments (0)
August 02, 2003
Oh! That's right...
The week must have really done me in... I have a Kids on Campus staff Party that I'll be going to this evening. I was forgetting about it when I did my last post. It should be fun to hang out with these guys in an environment that's not filled with a bunch of little lunatics... :)
The movie might still fit into my plans if it's at the right time of the day... I'm thinking I'll do the Park Ave thing on Sunday after church...
Posted by Andrew at 10:48 AM | Comments (0)
Awake before 10am!
Here I am, awake before 10am! I decided not to go to the movie last night and neither did Keb, so while the others went to the movie, we came back to my place (I wish I had some cool name for my place like "The Roost" or "The HizzleShizzle" or something). We watched a little TiVo (Cupid) while Keb felt a compulsion to fold the piles of clean clothes that had been inhabiting the tops of my shelving units. -- Which is good... Cleaning up my apartment and living space is on my list of things to do during August.
For now, I'm going to get myself the rest of the way "up" and see what my Saturday holds (hopefully a lot of simple relaxing time... still trying to recover from the last 4 weeks). I think that I might be also going to either a movie or the Park Ave Arts Fest (or both?) for a little while today.
Will post more later.
Posted by Andrew at 10:24 AM | Comments (0)
August 01, 2003
August... Daily Blog Updates
Hi, everyone!
I'm planning to make daily blog updates throughout this particular month. Starting today, August 1st, and lasting until August 31st.
Today, was the last day of my Kids on Campus workshops... I got the games finished last night at about 4am... I'm going to be moving them soon, but for now, You can download (for Mac OS X only [for now]) each of the 4 games that were made for the last two sessions at the following links: Session 1 & Session 2. Both contain two games... If you don't have Mac OS X, but you have Director (including the 30 day free trial evaluation version) you can still download and extract the .sit (use StuffIt Expander) files and open and "play" the 'start.dir' files for each game... Either that or wait until I'm able to make versions for the other operating systems.
Tonight, I'm going out to dinner and then planning to come home while my friends maybe go out to see Lara Croft Tomb Raider: The Cradle of Life. I'd go see it, too, but I know that I'd be nodding off the whole time, so I'll probably go catch it another time.
A few years ago, I used to often go see a movie after a long day with the Kids on Campus kids, but this time, I'm finding that I have a lot more things that I need or want to go do in the evening after Kids on Campus got out, so I'm really behind in my moving-watching... About this time 2 years ago, I had seen every single movie that was currently playing... This time, looking at the Movie Listings for my favorite nearby theatre, Cinemark Tinseltown, I've only seen TWO of the movies listed. I have an interest in seeing all of them, though.
I have a lot of things that I'd like to do this month, and I'll try to post my list of priorities very soon... Like either tonight or tomorrow so that you can follow along with me... :)
That's all for now... I've got to run!
Posted by Andrew at 05:30 PM | Comments (0)