« Still here. | Main | Quite crazy start to the quarter. »
August 24, 2003
Weekend
The kick-off meeting on Friday night went really quite well. Got to see leaders, Joel, Tim G, Tim C, and Erin from RIT as well as about 10 others from other area colleges. I think it will be a great year for Rochester CCC.
I also started out on a new personal self-improvement journey, that maybe I'll talk about more sometime (if/when it works)... Check with me in a year.
On Saturday, I did some on-line catch-up and waited for my friends to get done with their wedding until later that night. We tried to go to Olives in Pittsford... but they were closed (causing a chain-reaction of miffed-ness that would make your head spin), so we went to Aladdin's instead... Just myself and 3 lovely women (I suspect that at least one of them will be reading this! :) ). At any rate... We went back my way and watched an episode of Monster House on the DVR. Keb still wonders when they're actually going to make that hookah fountain look good.
Today, I got up in time to join a very similar group at the iHop (which I write that way because I was wearing an iMac T-Shirt at the iHop) for brunch. Then got home and took a little bike ride: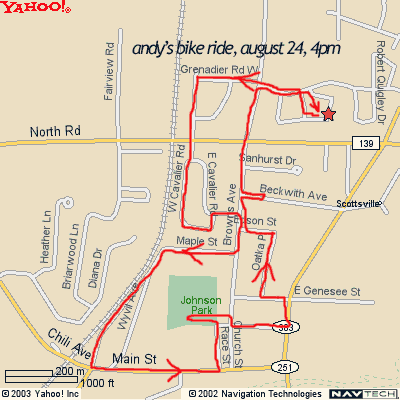 It was fun... It's not something I normally do. Even though I've had my bike (here's a newer model with more red on the tires than mine has) for quite a number of years now.
Tonight, I'll be going to the Capax Dei Core Night and then joining my weekend-long group of friends for dinner downtown at Empire Brewing Company.
Next week will be pretty busy too... The summer has nearly come to an end. It's closing in fast.
Posted by Andrew at August 24, 2003 05:16 PM
Comments